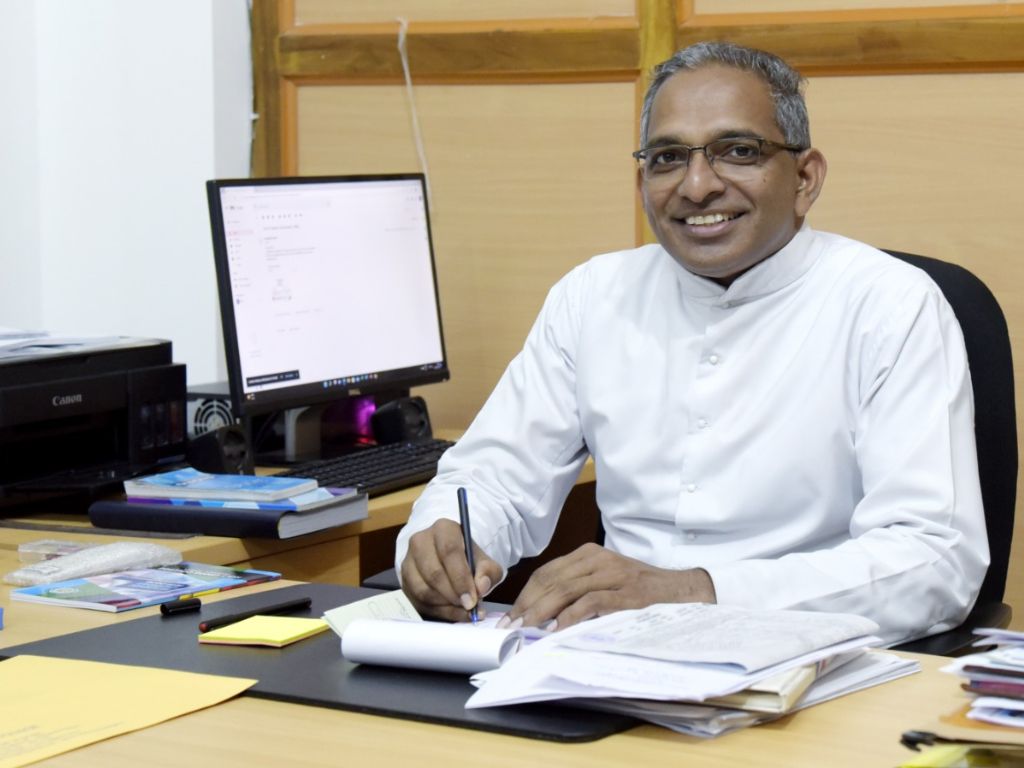 Vice Principal and Administrator
 Education is indeed a Channel and a Challenge: Channel because it has a framework, which provides a desirable formation aimed at intellectual, emotional, spiritual, personal, interpersonal growth and enrichment. This could be the purposeful or proximate objective of education. It is a challenge because the formative dimension is expected to be the springboard of the transcendental dimension of education. In other words the remote objective of education is Transformation. Holy Cross is committed to ensure that both formation and transformation are earnestly framed and focused. This was envisioned by the Founder of Holy Cross Congregation Blessed Basil Antony Mary Moreau paraphrased as

Educating Heart and Mind

 hundreds of years ago. Our endeavor here is to uphold and ensure this vision of our founder accomplished as a family of Holy Cross. Our inspiration is Blessed Basil Moreau who personalized and visualized the infinite values and virtues of Jesus Christ; a great teacher for empowering and enlightening young men and women in an integrated way through the services of teaching and learning. One can become a person of success provided he or she is a person of values. Today's seed brings tomorrow's harvest. We are in the pursuit of sowing the healthy and best seed of knowledge, character and highest human and divine values for a better harvest of authentic teachers and learners. We are committed to provide and promote quality education with a healthy environment in the contemporary state of affairs.
Remember Life does not provide us warranties and guarantees, It only provides possibilities and opportunities. We are invited to cuddle every opportunity and rise to the occasion as an authentic learner in all possible ways.
We are living in a world of contrasts and conflicts, pandemics and quarantines, powerful and powerless where the poor walks miles to get their food and the rich walks miles to digest their food. We provide and promote education in order to take the best and right decisions blending both human and divine rudiments. We hope the voyage of education in Holy Cross College would help a person to grow with healthy attitudes and noble values. Take right and firm stands and decisions with a great sense of justice, truth and patriotic principles. We pray that we the management, faculty, staff, guardians and students continue to assimilate a soft corner for the poor, marginalized and the needy around us. Let generosity flow not from the bottom of the purse but from the bottom of the heart.
Our design of education is not to chain a student to be a passive victim of his or her circumstances but to be an active hero of one's own life. Tomorrow belongs to those who have vision today. May our education helps us to be connected, to create the needed synergy and space, so that every one of us will have a reason to live, opportunity to learn, grow, celebrate life and values and thus appreciate the worth and uniqueness of one another.